DIAMOND TABLE LAMP | TIMANTTI
GET THAT LUXURIOUS GLOW PERFECT FOR YOUR HOME!
With beautifully cut crystals, the stunning table lamp will add a touch of glamour to any room in your house. Decorate your dining table and create a romantic and elegant space. This table lamp is very suitable for bedrooms, living rooms, dining rooms, study rooms, craft rooms, corridors, closets, hotels, offices, etc.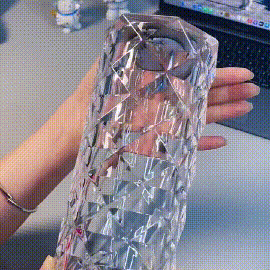 Using special 3D technology, this elegant table lamp gives off 3D clear lines, smooth lines with a diamond-like effect. The crystal table lamp will create a very romantic and warm light when on. It will be a great gift for your partner, friends, and families.
MAKE YOUR TABLE AND OTHER SPACES SPARKLE!
FEATURES AND BENEFITS:
LONG-LASTING SHINE: After removing all the flaws, it leaves a deep lustrous shine with a long-lasting, protective, and tarnish-repelling finish. Provides shiny, long-lasting protective coating.
THREE LIGHT MODES: T

ouch the top of the crystal desk lamp to switch between the three modes of [white light/warm light/yellow light] at will. When you touch the top of the lamp, you can stay for a few seconds to adjust the brightness of the lamp, and leave when it reaches the brightness you need.

USB CHARGING AND SUPER BATTERY LIFE: Charging for 4 hours and lighting for 12 hours allow you to use it anywhere and anytime. Three light color temperatures, with a touch switch design, intimate and convenient, the light is delicate, comfortable, and natural, and protects the health of you and your family.
SOPHISTICATED STYLE AND ELEGANT LOOK: With the exquisitely cut 100% genuine crystals, it can create a comforting and romantic atmosphere. It is ideal for decor, and light up your bedroom, kids' room, guest room, living room, kitchen, office, and any corner of household and commercial environments.
SPECIFICATIONS:
Voltage: 5 (V)
Shade material: Acrylic
Dimensions: 90 x 215 (mm)
PACKAGE INCLUDES:
WE SHIP TO:
United States*, Canada *, Australia, United Kingdom, Ireland, Germany, Austria, Belgium, Czechia, Denmark, France, Norway, New Zealand, Netherlands, Poland, Portugal*, Spain, Sweden, Switzerland and United Emirates Arab.
FREE SHIPPING will apply on ALL ORDERS 
Learn more about our *Shipping Policy here
Track your order here
More FAQs here
DELIVERY TIME: (applies to physical products only)
Delivery time = Order Processing Time + Transit time
Order Processing Time: time to process your order
Within 1-6 business days*

Transit Time*: time to deliver the package
US               8-20 days
UK                 7-12 days
CA               15-30 days
AU                 6-15 days
Ireland         14-25 days
Germany       8-15 days
Austria        12-15 days
Belgium      10-15 days
Czechia        8-25 days
Denmark      8-16 days
Dubai            8-25 days
France          6-14 days
Norway       14-25 days
New Zealand 7-15 days
Netherlands   8-16 days
Poland           6-25 days
Portugal       10-25 days
Spain             7-22 days
Sweden         6-22 days
Switzerland  11-21 days
*NOTE: these are estimated timeframes.
Business days are Monday to Friday.
Weekends and Federal holidays are excluded.


SHIPPING FEE
There is no Shipping Fee. We offer FREE SHIPPING on ALL ORDERS.   
Learn more about our
*
Shipping Policy 
here