HANGING PLANT VASE | LUCCA
ADD A FASHION SENSE AND STYLE TO YOUR INDOOR SPACES!

Nothing will accentuate your own distinct decorative theme like this delightful hanging planter! They can be used as an eye-catching fashion decorative accent for any space, such as home, studio, office, garden, wedding, or holidays. They can beautify and purify your place. Perfect for displaying an array of hydroponic plants or fresh flowers.

Whatever your home is rustic or boho theme, or maybe you are more into a modern or eccentric atmosphere, this Hanging Plant Vase will be perfect for your home. Fortunately, these wall planters engage with every style or taste.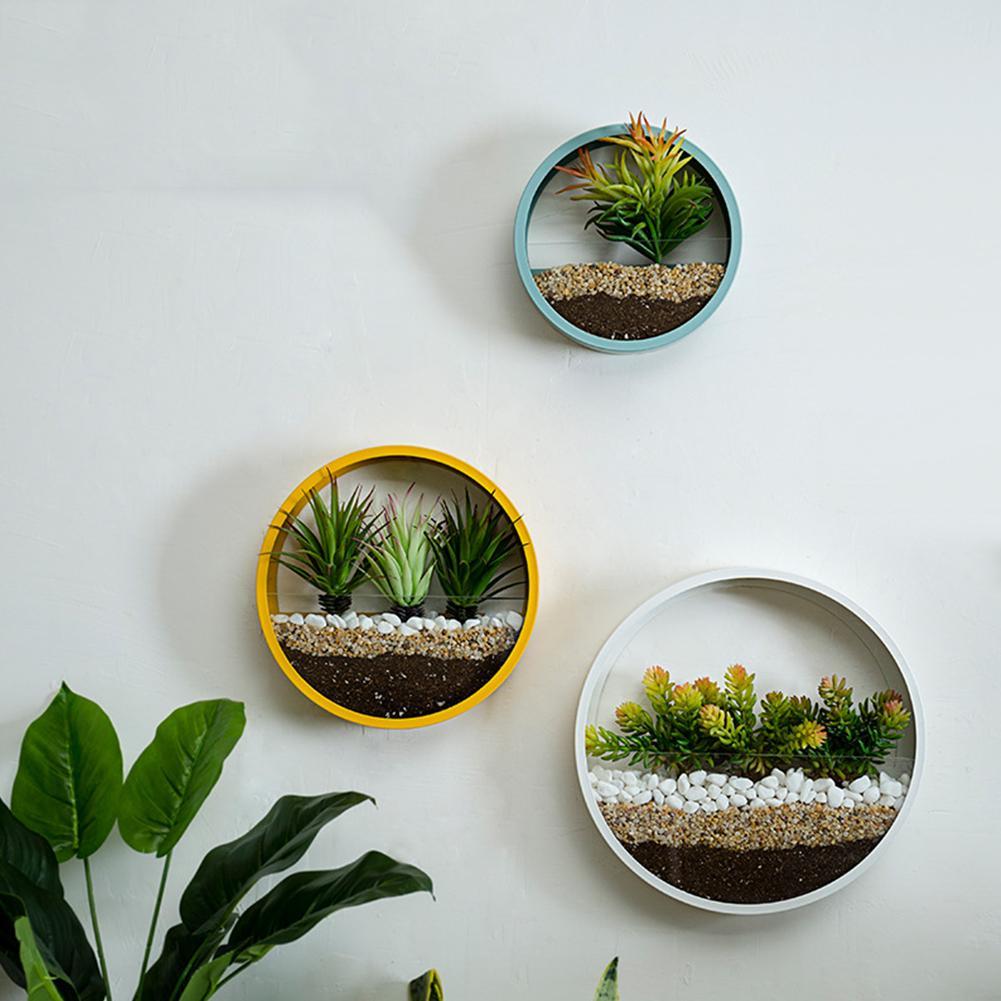 These planters fill every room with life and instantly create lively and balanced spaces. Smooth curved edges with a glazed rust-free finish provide your hanging planters with a romantic beach vibe. Whether kitchen, bathroom, office, family room bedroom or house, garden, wedding, holiday as decor, these wall planters will look fantastic and impress your guests!
Features:
PERFECT PLANT CONTAINER:

Round metal hanging wall planter with a glass baffle is the best choice for planting real or artificial small plants, flowers, succulents, air plants, cacti, and spider plants.

MULTIFUNCTIONAL PLANTER: You can use your imagination to fill with small plants, sand, shell, stone, or other decorative objects, you also can use it to store things you like, can be used as an eye-catching fashion decorative accent for any space

STABLE DESIGN: The planter is simple and stylish, every part is carefully designed, the three inverted triangle small holes in the back allow you to attach this planter to any wall using appropriate mounting hardware.
Specifications:
Small: diam 18 cm, 5.5 cm wide
Medium: diam 23 cm, 6 cm wide
Large: diam 28 cm , 6.5 cm wide
Material: Glass, Iron, and Metal

Package Includes:

1 x HANGING PLANT VASE | LUCCA
WE SHIP TO:
United States*, Canada *, Australia, United Kingdom, Ireland, Germany, Austria, Belgium, Czechia, Denmark, France, Norway, New Zealand, Netherlands, Poland, Portugal*, Spain, Sweden, Switzerland and United Emirates Arab.
FREE SHIPPING will apply on ALL ORDERS 
Learn more about our *Shipping Policy here
Track your order here
More FAQs here
DELIVERY TIME: (applies to physical products only)
Delivery time = Order Processing Time + Transit time
Order Processing Time: time to process your order
Within 1-6 business days*

Transit Time*: time to deliver the package
US               8-20 days
UK                 7-12 days
CA               15-30 days
AU                 6-15 days
Ireland         14-25 days
Germany       8-15 days
Austria        12-15 days
Belgium      10-15 days
Czechia        8-25 days
Denmark      8-16 days
Dubai            8-25 days
France          6-14 days
Norway       14-25 days
New Zealand 7-15 days
Netherlands   8-16 days
Poland           6-25 days
Portugal       10-25 days
Spain             7-22 days
Sweden         6-22 days
Switzerland  11-21 days
*NOTE: these are estimated timeframes.
Business days are Monday to Friday.
Weekends and Federal holidays are excluded.


SHIPPING FEE
There is no Shipping Fee. We offer FREE SHIPPING on ALL ORDERS.   
Learn more about our
*
Shipping Policy 
here