3-in-1 PORTABLE BEDSIDE LAMP WITH BLUETOOTH SPEAKER & WIRELESS CHARGER | ELYPSE PRO
THE ONLY HUB YOUR HOME NEEDS!

THE ELYPSE PRO 3 IN 1 PORTABLE BEDSIDE LAMP TABLE WITH BLUETOOTH SPEAKER AND WIRELESS CHARGER from Holistik Bloom is the hub your home needs. Bluetooth speakers with a high-end sound output and integrated wireless charging.
Ditch the old charging cable and transform your tabletop into that neat workspace you always desired! .Portable Bluetooth speaker, Adjustable phone holder, Wireless charger lamp, Touch control bedside lamp, Wireless phone charger. Appropriate in office, college dorm, reading room, living room, bedroom, study, bedside. 
CONVENIENT FAST WIRELESS PHONE CHARGING
THE ELYPSE PRO WIRELESS CHARGING TABLE LAMP also has the function of 10W wireless charging, which is convenient for you to charge your mobile phone before going to bed and prepare for work and study on a new day.
Wireless mobile phone charging by simply placing your phone on the lamp and your phone will charge quickly and conveniently without the need for a charging cable. Compatible with all Qi/Wireless charging enabled devices, built-in intelligent protection system can effectively prevent overcharging and short circuit. 
Smart wireless charging technology can slow down the direct current flow, extend the battery life of mobile phones, and let you say goodbye to messy cables.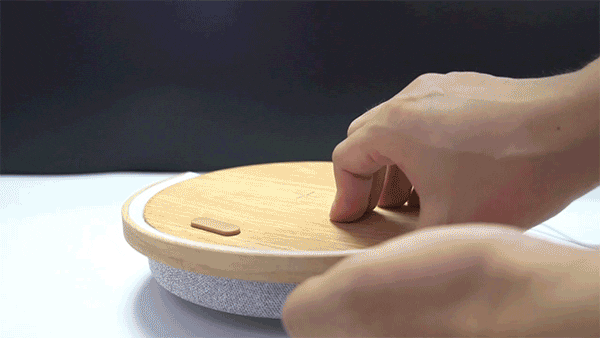 Connect to the wall charger and place the phone in the center of the charging pad. The phone will start charging after a notification sound. You can get up to 10W of charging speed when using a QC 3.0 charger (subject to purchase separately).
THE PERFECT ACCENT TO YOUR DARK NIGHTS!
ONE TOUCH DIMMABLE LAMP 3 POSITIONS
This table lamp has a stunning modern design, soft integrated LED light source. Controllable by touch on/off function. The LED lamp is bright enough for bedtime reading. Adjustable brightness with touch-sensitive panel allows you to adjust different brightness to suit your mood with a simple slide of the finger.
It's a pleasant addition to your bedside table or work desk. It has soft and warm eye protection light, and the brightness can be adjusted by touching it gently. The dimmable LED lighting allows you to choose the perfect brightness level, whether that be for reading, homework, or general lighting.

FREE YOUR HANDS FOR THE IMPORTANT THINGS
The rotatable handle offers a phone stand functionality so you can free your hands and enjoy your favourite TV show, videos or football games with maximum comfort.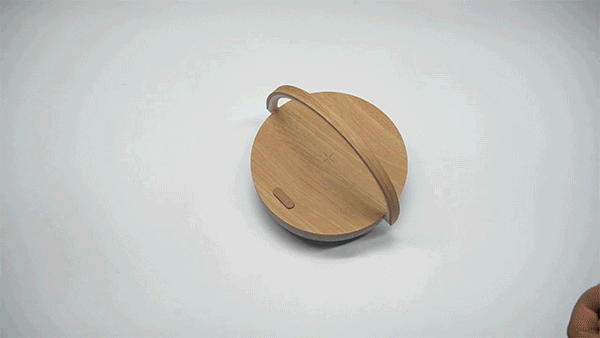 BRING YOUR FAVE SOUND EVERYWHERE !
It has a built-in battery for the light and speaker. Connect your phone via Bluetooth and relax with your favourite music. With the loudspeaker, you can easily enjoy other activities while listening to audiobooks.
Built-in 5.0 Bluetooth speaker allows connection to any Bluetooth device to conveniently play music, podcasts, bedtime stories with a high-end sound output.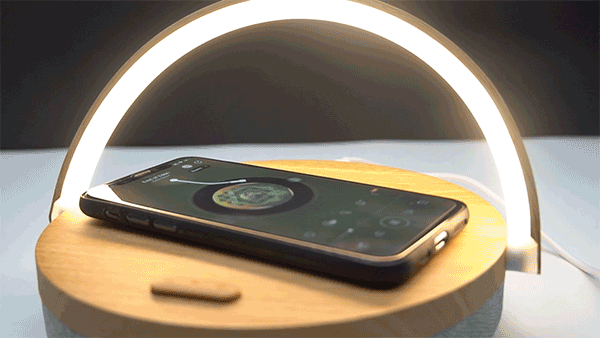 FEATURES 

Wirelessly charge your Qi enabled device, adjustable lamp/stand, up to 10w, 3 stage dimmable LED lamp, Bluetooth speaker, USB-C input
Design with wireless charging technology, compatible with all smartphones with wireless charging compatibility. No app required.

Case friendly charger. Rubber, plastic, TPU and PC cases are supported

Phone stand - the rotatable handle can be used as a phone stand perfect for watching videos, TV shows or football games.

Intelligent object recognition - the power will automatically power off when other metal objects are place in the charging unit.
Conference voice - intelligent sound channel dual sound surrounds with an anti-noise microphone.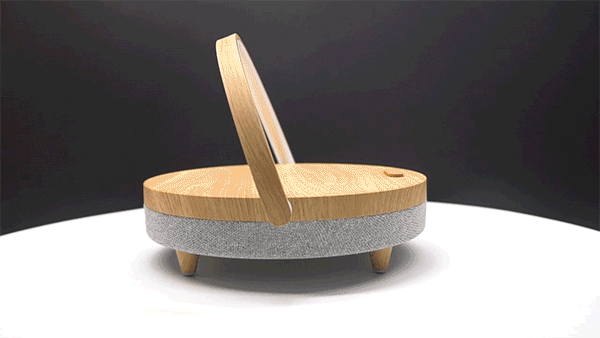 SPECIFICATIONS
Weight: 1 pound /172g
Dimensions: 9.4 x 9.4 x 5.7 inches /8*13.8*3.0CM
LED Lamp with 3 stage adjustable dimmer settings 

Dimming: 0%/10%/30%/100%
Light Color Temperature: 2700K
Input connection: USB Type-C cable and US plug, suitable for 110V & 220V.

Wirelessly charge 

Safe high-speed charging 7.5 W Output 
Wireless charging: Up to 10W for Qi compatible devices.

5.0 Bluetooth, fast charging, single speaker structure - exquisite in appearance, perfect in sound.

Smart chip, temperature control protection with a built-in USB Port -charger not included

Battery capacity

Battery: 1800mAh rechargeable Lithium battery
Built-in battery supports only the light and Bluetooth speaker.
Light can last up to 24 hrs in a dim setting with a full charge.
You can get at around 10hr of music playback with a full charge.

Note: Due to the large power demand, the wireless charging function is only enabled while the device is plugged into a wall charger.

WARNING: To use the wireless charging function, please make sure that your phone has wireless charging function.
Compatibility

Common mobile devices that compatible with wireless charging:
Compatible with Apple: iPhoneX, iPhoneXR, iPhoneXS, iPhoneXSMax, iPhone 8, iPhone 11, iPhone 12, iPhone 12 pro, iPhone 13 (mini/pro/pro max)
Compatible with Samsung: GalaxyS6, GalaxyS7, GalaxyS8, GalaxyS9, GalaxyS10, GalaxyS10+, Note8, Note9, Note10, Note20
Compatible with Huawei: Mate RS, Mate 20 Pro, Mate 20 RS, Mate 30 Pro, Mate 40 Pro, РЗ0 Рго ,P40 Pro
Compatible with Xiaomi: MIX2S, MIX3, Mi9, Mi10, Mi11 / OPPO Ace2 /Vivo X70 Pro+



PACKAGE INCLUDES
1 x WIRELESS CHARGING TABLE LAMP WITH SPEAKER FUNCTION with Bluetooth Technology
1 x manual, 1 x warranty card, 1 x  charging cable
WE SHIP TO:
United States*, Canada *, Australia, United Kingdom, Ireland, Germany, Austria, Belgium, Czechia, Denmark, France, Norway, New Zealand, Netherlands, Poland, Portugal*, Spain, Sweden, Switzerland and United Emirates Arab.
FREE SHIPPING will apply on ALL ORDERS 
Learn more about our *Shipping Policy here
Track your order here
More FAQs here
DELIVERY TIME: (applies to physical products only)
Delivery time = Order Processing Time + Transit time
Order Processing Time: time to process your order
Within 1-6 business days*

Transit Time*: time to deliver the package
US               8-20 days
UK                 7-12 days
CA               15-30 days
AU                 6-15 days
Ireland         14-25 days
Germany       8-15 days
Austria        12-15 days
Belgium      10-15 days
Czechia        8-25 days
Denmark      8-16 days
Dubai            8-25 days
France          6-14 days
Norway       14-25 days
New Zealand 7-15 days
Netherlands   8-16 days
Poland           6-25 days
Portugal       10-25 days
Spain             7-22 days
Sweden         6-22 days
Switzerland  11-21 days
*NOTE: these are estimated timeframes.
Business days are Monday to Friday.
Weekends and Federal holidays are excluded.


SHIPPING FEE
There is no Shipping Fee. We offer FREE SHIPPING on ALL ORDERS.   
Learn more about our
*
Shipping Policy 
here