KEEP YOUR SHOES DRY AND WARM!
The device is inserted directly into the shoe and turned on. With two built-in PTC elements capable of heating up to 150 degrees, it removes moisture from shoes, deodorizes, and sterilizes them in minutes. This can dry shoes, moccasins, or even insulated winter boots in a short time!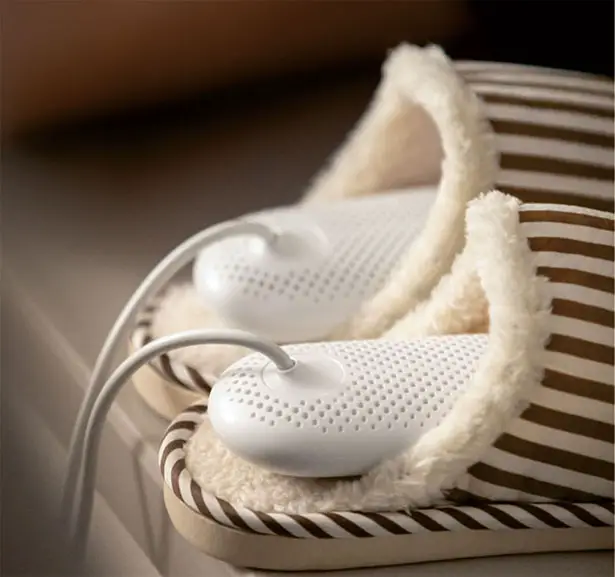 COMPACT SHOE DRYER emits constant temperature to make sure your shoe is dry in a short period of time. It has a maximum power of 12W, you can dry shoes from sweaty feet in just 15 minutes.
SAY GOODBYE TO WET AND SMELLY SHOES!
FEATURES AND BENEFITS:
WORK SILENTLY: 

You don't have to worry about the noise when you use it in your home, hotel, or company. There is no noise problem. It won't disturb your rest, study, or work. It will serve you through stable and continuous heating and quietly reflect its value.

KEEP YOUR SHOES DRY AND WARM: T

he shoe dryer keeps your shoes dry and warm forever so that you can get the comfort of your feet. The shoe dryer sterilizes and drives away the damp. The dryer keeps constant temperature to make efforts for your foot health. Warm and dry shoes are very important to your foot health.

WIDELY USED: 

The compact shoe dryer allows you to use this dryer with all types of winter boots, work boots, rain boots, tennis shoes, ski boot liners, gloves, hats, and accessories safely without over-drying.
SPECIFICATIONS:
Material: ABS Plastic
Rated voltage: 5 (V)
Rated power: 12 (W)
PACKAGE INCLUDES:
WE SHIP TO:
United States*, Canada *, Australia, United Kingdom, Ireland, Germany, Austria, Belgium, Czechia, Denmark, France, Norway, New Zealand, Netherlands, Poland, Portugal*, Spain, Sweden, Switzerland and United Emirates Arab.
FREE SHIPPING will apply on ALL ORDERS 
Learn more about our *Shipping Policy here
Track your order here
More FAQs here
DELIVERY TIME: (applies to physical products only)
Delivery time = Order Processing Time + Transit time
Order Processing Time: time to process your order
Within 1-6 business days*

Transit Time*: time to deliver the package
US               8-20 days
UK                 7-12 days
CA               15-30 days
AU                 6-15 days
Ireland         14-25 days
Germany       8-15 days
Austria        12-15 days
Belgium      10-15 days
Czechia        8-25 days
Denmark      8-16 days
Dubai            8-25 days
France          6-14 days
Norway       14-25 days
New Zealand 7-15 days
Netherlands   8-16 days
Poland           6-25 days
Portugal       10-25 days
Spain             7-22 days
Sweden         6-22 days
Switzerland  11-21 days
*NOTE: these are estimated timeframes.
Business days are Monday to Friday.
Weekends and Federal holidays are excluded.


SHIPPING FEE
There is no Shipping Fee. We offer FREE SHIPPING on ALL ORDERS.   
Learn more about our
*
Shipping Policy 
here