COLORFUL REUSABLE BEESWAX WRAP
Keep Your Food Sealed And Fresh!
The COLORFUL REUSABLE BEESWAX WRAP is a sustainable and natural alternative to plastic wrap. Wrap up cheese, fruit, vegetables, and bread. Cover a bowl, use as a placemat, or pack a snack for your next adventure. It also makes a unique eco-friendly gift idea for every home!
Our premium beeswax wraps are not only environmentally friendly and highly sustainable, but it also makes sure your food stays fresher for longer. Creates air-tight seals which will keep your food fresh and delightful. Now you can keep your sandwich, cheese, fruit and leftovers wrapped up and maintaining the flavor of your food! 
Perfect to avoid those wrapping plastic films while making good for the planet! (and adding a touch of fun!)
FEATURES AND BENEFITS
WASHABLE & REUSABLE: Use the warmth of your hands to soften the wrap and form over a bowl, container, or piece of food. As the bees' wax paper wrap cools, it creates a seal and stores food naturally.  

For repeated use, simply wash in cold water. Keep away from heat sources and do not put in the dishwasher. Proper care will keep the beeswax reusable for a long time!

ECO-FRIENDLY INGREDIENTS: Made of organic cotton, sustainably harvested beeswax, organic jojoba oil, and tree resin. The fabric and printing are certified by the Global Organic Textile Standard.
ZERO WASTE: Our beeswax wraps are a great alternative to plastic cling wrap rolls. Ideal for wrapping bread, vegetables, sandwich or cover bowls & jars.
Environmental-friendly and odorless! Safe to use!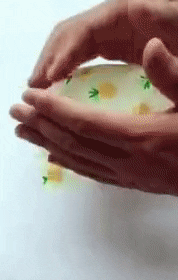 Care Instructions

1. Hand-wash your Beeswax Food Saving Wrap with cold water and alcohol-free soap, air dry, fold and store.
2. Keep your beeswax wrap away from heat. Not recommended for raw meat - avoid contact with greasy and acidic foods.
SPECIFICATIONS
Size: 8 x 7 inches (20 cm x 17cm) | 11 x 10 inches (28cmx25cm) | 14 x 13 inches (36cmx33cm)
Material:
Organic Cotton | Sustainable Beeswax | Organic Jojoba Oil | Resin
Style: Pineapple | Banana | Lemon | Bees Section
PACKAGE INCLUDES
3 Pcs/Pack x COLORFUL REUSABLE BEESWAX WRAP
WE SHIP TO:
United States*, Canada *, Australia, United Kingdom, Ireland, Germany, Austria, Belgium, Czechia, Denmark, France, Norway, New Zealand, Netherlands, Poland, Portugal*, Spain, Sweden, Switzerland and United Emirates Arab.
FREE SHIPPING will apply on ALL ORDERS 
Learn more about our *Shipping Policy here
Track your order here
More FAQs here
DELIVERY TIME: (applies to physical products only)
Delivery time = Order Processing Time + Transit time
Order Processing Time: time to process your order
Within 1-6 business days*

Transit Time*: time to deliver the package
US               8-20 days
UK                 7-12 days
CA               15-30 days
AU                 6-15 days
Ireland         14-25 days
Germany       8-15 days
Austria        12-15 days
Belgium      10-15 days
Czechia        8-25 days
Denmark      8-16 days
Dubai            8-25 days
France          6-14 days
Norway       14-25 days
New Zealand 7-15 days
Netherlands   8-16 days
Poland           6-25 days
Portugal       10-25 days
Spain             7-22 days
Sweden         6-22 days
Switzerland  11-21 days
*NOTE: these are estimated timeframes.
Business days are Monday to Friday.
Weekends and Federal holidays are excluded.


SHIPPING FEE
There is no Shipping Fee. We offer FREE SHIPPING on ALL ORDERS.   
Learn more about our
*
Shipping Policy 
here