HAND KNITTED CHUNKY BLANKET | VARMIK
 ADD A CHARMING TOUCH TO YOUR BEDROOM OR LOUNGE!
Get cozy and warm elegant with this extremely soft and fuzzy blanket. Perfect for snuggling up on the couch, bed, chilly movie theater, park, or perfect personal gift for any occasion. The range of sizes complement chairs, beds, and sofas as statement pieces or can also be used functionally as blankets, cozy wraps, and ponchos. This will add elegance and warmth to any area of the home!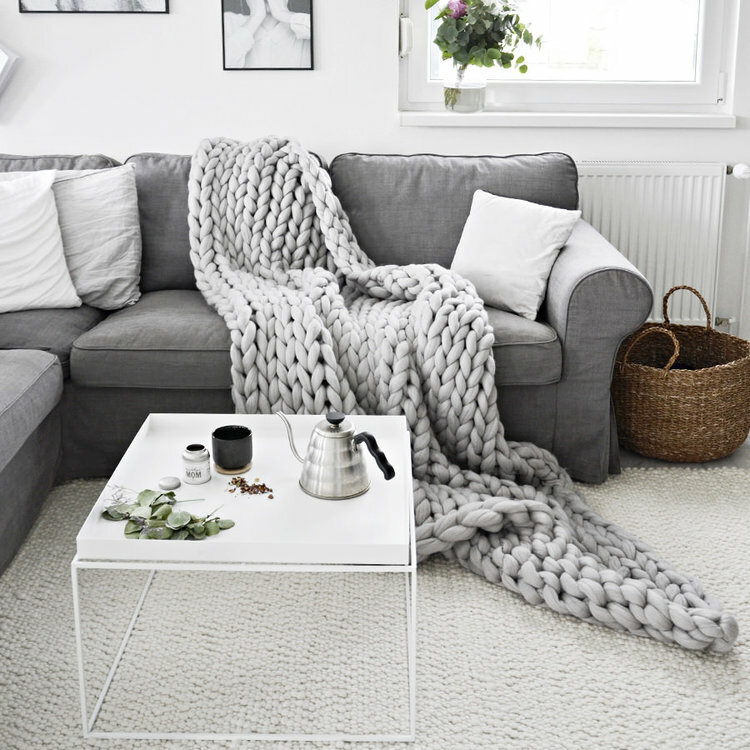 It brings a sophisticated touch into your home and office with its unique contemporary color and texture. It is a thoughtful gift that warms up her heart just as much as it warms up her body. Perfect for anyone who is both stylish and practical.
ADD FLAIR TO EVERY SPACE!
FEATURES AND BENEFITS:
GOOD DECORATION FOR YOUR HOME: 

Versatile size and color options of chunky knit blanket throw soft rug that adds flair to every space, brightening up your bed, couch, or chair.

BREATHABLE AND TEMPERATURE REGULATING: 

It has active fiber which means it reacts to change in body temperature, both this and its breathability mean that it isn't clammy when going indoors from outside, not only that but it helps to regulate the heart rate which also improves sleep.

SOFT AND GENTLE: It doesn't itch or irritate your skin, on the contrary, it feels incredibly soft and gentle to the touch. Incredibly soft and uniquely beautiful, will make the perfect snugly warm bed or rug for your loved one.
SUITABLE IN ANY WAY: 

A chunky throw blanket may be easily integrated into your everyday life from bed decor with a western bedding vibe, to boho living room decor, photo background, and more.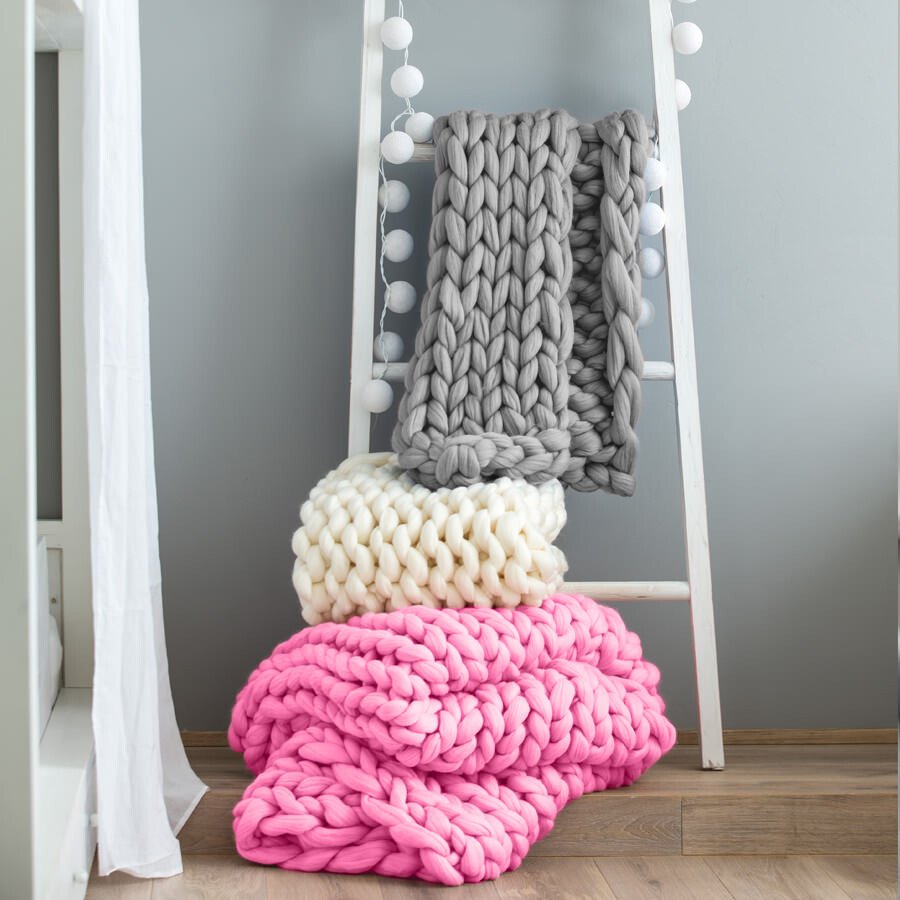 SPECIFICATIONS:
Material: Polyester and Cotton
PACKAGE INCLUDES:
1 x HAND KNITTED CHUNKY BLANKET
WE SHIP TO:
United States*, Canada *, Australia, United Kingdom, Ireland, Germany, Austria, Belgium, Czechia, Denmark, France, Norway, New Zealand, Netherlands, Poland, Portugal*, Spain, Sweden, Switzerland and United Emirates Arab.
FREE SHIPPING will apply on ALL ORDERS 
Learn more about our *Shipping Policy here
Track your order here
More FAQs here
DELIVERY TIME: (applies to physical products only)
Delivery time = Order Processing Time + Transit time
Order Processing Time: time to process your order
Within 1-6 business days*

Transit Time*: time to deliver the package
US               8-20 days
UK                 7-12 days
CA               15-30 days
AU                 6-15 days
Ireland         14-25 days
Germany       8-15 days
Austria        12-15 days
Belgium      10-15 days
Czechia        8-25 days
Denmark      8-16 days
Dubai            8-25 days
France          6-14 days
Norway       14-25 days
New Zealand 7-15 days
Netherlands   8-16 days
Poland           6-25 days
Portugal       10-25 days
Spain             7-22 days
Sweden         6-22 days
Switzerland  11-21 days
*NOTE: these are estimated timeframes.
Business days are Monday to Friday.
Weekends and Federal holidays are excluded.


SHIPPING FEE
There is no Shipping Fee. We offer FREE SHIPPING on ALL ORDERS.   
Learn more about our
*
Shipping Policy 
here