SPINNING ANXIETY RING | FIDGET RINGS | NATURE COLLECTION
THE PERFECT SOLUTION TO PROVIDE A BIT OF STRESS RELIEF !
Most people with anxiety are aware of the need to fidget when they're feeling anxious. Some people bite or pick their nails. Some people put their hands in their pockets. Others fiddle with their necklaces or even their rings.
Spinner rings or Rotating Ring for Anxiety and Stress are designed to be fiddled with. They're a healthy, less obvious way to move your hands when you feel that you need to be fidgeting.
Our elegant ANXIETY  SPINNING RING COLLECTION is made to provide stress relief and alleviate anxiety.
It is an inexpensive solution to the common problem of biting nails.

The spinning motion of this ring is designed to help calm anxiety and bring about a peaceful state of mind and body.
- Reduce anxiety - relax yourself when things get too much in public using this calming spinner ring.
- Relieve overthinking - Re-focus yourself to be in the present moment by spinning the shimmering ring centre.
- Stop picking your nails and cuticles - Our rings have helped so many people get their nails back, with their focus going to our rings instead of their nails!
STOP BITING YOUR NAILS AND SKIN!

Beautiful, elegant, and discrete, our mindfulness rings are the perfect portable support for all of us carrying a bit of anxiety.

Ideal for fidgety fingers or pent-up energy the rotatable mechanism aids in preventing nail biting and skin picking.
Butterfly and Daisy anxiety spinning rings Nature Collection from Holistik Bloom are not just stylish and cute but also an excellent remedy to nail-biting.
Beautifully stacked with other rings, our anxiety relief ring will ensure your day runs smoothly and your fingers and nails stay healthy.

Our anxiety fidget rings don't make any sound, making them extremely discreet so you won't disturb anyone around you.
EXPERIENCE A CALM, MORE MEDITATIVE STATE
Practice mindfulness to help calm stressful situations while focusing on the movement and rotation of the ring in combination with slow and intentional breathing.
Perfect for Stress Reduction: If you fidget, you can use this Ease Ring to benefit from the meditative, calming, and anxiety-relieving effects of its light Spin Feature. It will help you relax if you are having trouble concentrating at work, school, or during meditation.
You simply spin the center ring with your fingers and take deep breaths to experience a calm, more meditative state.
BENEFITS
Relieves stress & Calms Anxiety 

Ideal for fidgety fingers

Prevents nail biting and skin picking 

Helps practice Mindfulness 
DRAWSTRING POUCH INCLUDED,The Perfect Wellness Gift !
FEATURES

Hand-crafted stainless steel and plated with pure 14K gold.

Rust-free and hypoallergenic, making it 

ideal for those with sensitive skin

.

Nickel Free - (great for sensitive skin)
Modern Design
These beautiful rings can be worn every day as pieces with true meaning and purpose to help you when you need it most.
Spin the bands whenever you feel stressed, to aid in meditation or just as a lovely habit to maintain a state of calm and serenity.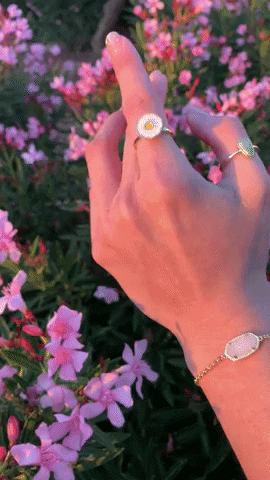 CHOOSE YOUR SIZE
Adjustable Sizing: No reason to worry about your ring size, each Ease Ring is fully adjustable to fit all size fingers! 
JEWELRY CARE
HOLISTIK BLOOM'S rings are durable and high in quality. However, it is important to treat it with care to keep it looking good as time goes on. HOLISTIK BLOOM anxiety rings should be removed when bathing or applying lotions and perfumes to ensure a long-lasting shine.
To clean, wipe with a soft cloth. Avoid frequent contact with strong chemicals, such as detergent, bleach, perfume, etc. Store in a jewellery box or soft cloth. 
WE SHIP TO:
United States*, Canada *, Australia, United Kingdom, Ireland, Germany, Austria, Belgium, Czechia, Denmark, France, Norway, New Zealand, Netherlands, Poland, Portugal*, Spain, Sweden, Switzerland and United Emirates Arab.
FREE SHIPPING will apply on ALL ORDERS 
Learn more about our *Shipping Policy here
Track your order here
More FAQs here
DELIVERY TIME: (applies to physical products only)
Delivery time = Order Processing Time + Transit time
Order Processing Time: time to process your order
Within 1-6 business days*

Transit Time*: time to deliver the package
US               8-20 days
UK                 7-12 days
CA               15-30 days
AU                 6-15 days
Ireland         14-25 days
Germany       8-15 days
Austria        12-15 days
Belgium      10-15 days
Czechia        8-25 days
Denmark      8-16 days
Dubai            8-25 days
France          6-14 days
Norway       14-25 days
New Zealand 7-15 days
Netherlands   8-16 days
Poland           6-25 days
Portugal       10-25 days
Spain             7-22 days
Sweden         6-22 days
Switzerland  11-21 days
*NOTE: these are estimated timeframes.
Business days are Monday to Friday.
Weekends and Federal holidays are excluded.


SHIPPING FEE
There is no Shipping Fee. We offer FREE SHIPPING on ALL ORDERS.   
Learn more about our
*
Shipping Policy 
here